Equestrian Canada Rider Programs
The EC Learn to Ride program was developed for individuals who wish to learn safe horsemanship and practices. The purpose of this program is to produce safe and knowledgeable horseman and to assist in the development of future instructors and coaches.

The Rider Level program is a national program with national standards that rewards all riders, recreational to competitive, for advancing their learning with Certificates of Achievement. This program encourages all riders to ride, learn and enjoy the sport of riding while providing guidelines to coaches and instructors.
What are the Learn to Ride / Drive Programs?
The Equestrian Canada (EC) Learn to Ride Programs are aimed at individuals who wish to become well-rounded horse people, who are able to care for and ride their horses in a correct and safe manner and wish to be recognized for doing so at a national level.
The program is available for both English & Western riding disciplines, as well as Driving; providing a systematic approach for introducing new riders/drivers to equestrian sport.
Organized into levels (English Learn to Ride Levels 1-10, Western Learn to Ride Levels 1-4, and the Western Intermediate Rider Levels) the Learn to Ride/Drive Programs develop practical hands on stable management and riding skills along with the knowledge that will help ensure riding is a safe and enjoyable experience for all.
Experience and skills developed during lessons are supported by further learning material found in the rider manuals that accompany each level in the program. Proper riding technique is best developed with the aid of an EC certified instructor/coach. As such, the program has been designed to be delivered by an EC certified instructor/coach. These instructors/coaches are provided with materials, guidelines and specific training to support their delivery of the
Learn to Ride/Drive
programs.
Accompanying each level of the programs are rider tests that are composed of a written theoretical component, a hands on practical stable management component, and a riding component, all designed to test the rider on their knowledge learned at each specific level. Successful candidates will receive nationally accredited certificates and rider level badges.
​
Join today! Feel good about participating in a program that is for everybody and accomplishes the following:
Tracking your progress successfully;
Working towards a national standard;
Learning to ride safely and correctly;
Developing a range of skills and knowledge;
Recognizing and celebrating your achievements.
---
P'Tit Trot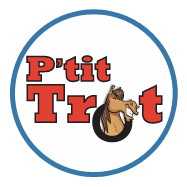 NEA is pleased to announce that the new introductory english and western rider program, known as P'Tit Trot, now has a wonderful website for children, parents and coaches to enjoy. The website will walk you through the program and introduce young equestrians to western riding in a fun and interactive way. P'tit Trot is not an Equestrian Canada program but a provincial program that fits into the LTAD FUNdamentals.

The P'Tit Trot website accompanies the manual and awards that are available at the NEA or directly from the Quebec Equestrian Federation ) FEQ) for purchase. The whole kit is only $39.00 and provides young riders and coaches with entertaining and educational materials that are ideal for learning the basics of english nand western riding.
To enter the world of P'Tit Trot, click

here
---
Long Term Equestrian Development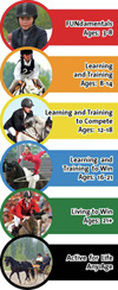 LTED
Long-Term Equestrian Development (LTED) is a systemic approach to maximize the potential of participants and athletes in our sport. The LTED framework defines optimal training, competition, and recovery programs based on biological age rather than chronological age.
LTED Program Website